Touring on Bikes : Book of Questions (Paperback)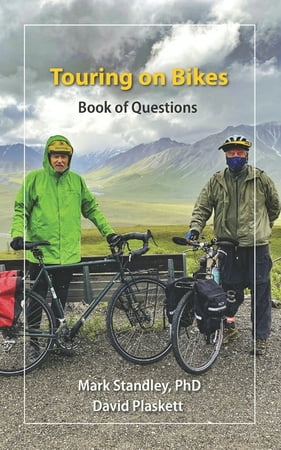 Nothing can be as freeing, exciting, and risky as touring on bikes.
The freedom to pedal
our way across miles and miles of roads or trails can bring such pleasure and pain. The joy of the open road on a bike tour is one of the greatest adventures in the world. Touring on bikes creates a need to prepare ourselves, our bikes, our gear, and our food/water. A successful bike tour is a result of great planning, hard biking, and good old fashioned luck. As the film producer, Sam Goldwyn quipped, "The harder I work, the luckier I get." So too should our preparation work for bike touring be directed. This Book of Questions is designed to help bikers plan their tours near and far. We provide resources so you can research your own answers to these questions and from experts, fellow cyclists, books, and the web. In the spirit of the saying "The question is the answer," we invite you to find answers to these questions to help you ask and answer your own questions to better prepare, ride, enjoy and learn from your bike tour. Riders doing bike tours need a set of skills, attitudes and dispositions to be safe and successful. Just reading about it does not give you skills. Most skills are gained through inquiry and direct experience. This set of questions is intended to help guide your preparation for that direct experience. By answering these and your own questions you'll be in the best position to develop those skills and attitudes to be successful.